What kind of people buy your art?
Anyone who loves their garden and wants it to be unique.
What makes your work stand out?
Quality at a competitive price.
Bespoke tailor made products. A personalised service offering options for customisation.
Easy setup and installation, taken care of by a skilful and experienced operator.
Easy setup installation for onsite projects by a skilled and exprienced artist / installer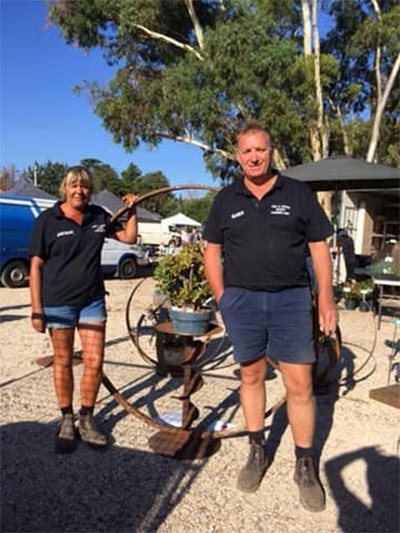 Who we are and what we do
Founded and established in October 2018 by Gary and Jackie Roberts. 
After a year of being Gaz "n" Jack's Rusty Garden Art we decided it was time for a change.
Jackie is a proud Aboriginal woman and a member of the Eastern Maar people of the Gunditjmara  Nation, South West of Victoria, where my mum was born in a hut at the Framlingham Mission about 25kms from Warrnambool.
The name Mara comes from Gunditjmara meaning people, our logo is a boomerang made by my cousin when I was a young girl, I took two photo's of it and joined them together to make the M, it's very special to me to be able to use something made by a family member.
Gary is a welder by trade doing his apprenticeship back in the 80's, he didn't pursue it after finishing his apprenticeship because he had a love of trucks as a young boy, we brought our first truck when he finished his apprenticeship and from then until 2015 he was an owner driver, in 2015 we decided to move to Wedderburn in Central Victoria where he worked for a few companies until his work took a different direction. With an artist eye he would then start to make metal art for our garden, we got to know a couple of farmers in our area that had scrap metal piles on their properties and they said we were welcome to have a look, so we thought this is something we could do together so we started going though their scrap metal and picking up what they thought was rubbish and we could see it turning into unique garden art, we work together as a team designing art for others to also enjoy.  We do all our own work from rolling rings and shaping the metal.
Acknowledgement of country
Mara Metal Art acknowledges the traditional owners of country throughout Australia and their continuing connection to land, sea and community.  We pay our respects to their Elders both past, present and emerging.
Need to know more?
Need something made that's not in stock or want to find out more about our products?
Visit Our Online Shop
Find out what's available for your garden by taking a look at what we have in stock.