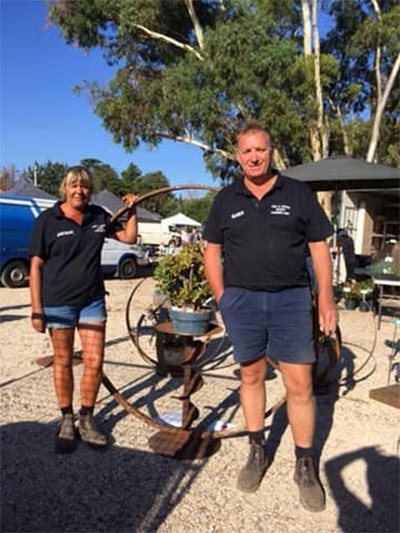 Who we are and what we do
Gaz and Jac are a couple of imaginative, passionate people, who create beautiful objects from rusty scrap metal. They turn unwanted waste into one-off pieces of garden art, including sculptures, ornaments and garden furniture.
Their work has been recognised with 1st prize at Boort agriculture show 2018
People choice award Boort AGC show 2018.
What kind of people buy your art?
Anyone who loves their garden and wants it to be unique.
What makes your work stand out?
Quality at a competitive price.
Bespoke tailor made products. A personalised service offering options for customisation.
Easy setup and installation, taken care of by a skilful and experienced operator.
Need to know more?
Need something made that's not in stock or want to find out more about our products?
Get in Touch
Visit Our Online Shop
Find out what's available for your garden by taking a look at what we have in stock. 
Shop Now
What People Say
Check out our reviews page to see what our customers think of us.Or check us out on Facebook
Reviews